We deliver anywhere in the world

All our structures can be delivered to you anywhere in the world, whether in Europe, Africa or the United States. We provide transport by road, air or sea. Find out more about delivery.
---
Tents, event marquees, pagodas, storage marquees and warehouses
Ventedechapiteaux.com (LBR Structure) is a family team with solid experience in the field of events and storage marquees. We have been renting and then manufacturing tents for many years. We work for professionals and private individuals in order to provide them with equipment that complies with current safety requirements and at prices that defy all competition. Because we know perfectly this field of activity, we offer you today the best of tents with the assurance of a top-of-the-range construction and accessible to all budgets.
Dimensions infinitely adjustable, in intervals of 3m or 5m.

Need storage tents of any size?
Our plant offers you a wide range of RECEPTION TENTS, WAREHOUSES AND INDUSTRIAL BUILDINGS, STORAGE TENTS of all sizes, from 5 to 40 m wide and of any length.
Manufacturer of tents with 20 years experience, we ensure the delivery on all territories worldwide.
We ship our tents and marquees to all four continents:
America (New York, Washington, Boston, Los Angeles, San Francisco…)
Europe (Belgium, Germany, Portugal, Spain, etc.).
Africa (Cameroon, Ivory Coast, Nigeria…)
Oceania (Australia, New Zealand, Hawaii…)
Asia
Transport is provided by air, road and sea.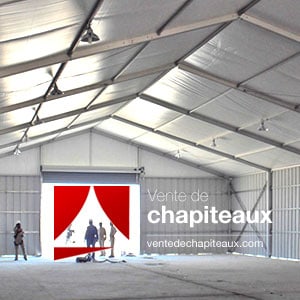 Get a free quote now
We build marquees and modular structures in strict compliance with current industrial standards. Our prices are among the lowest on the market. Get your quote now in just a few clicks.
Our tents for sale
Discover our catalogue of tents as well as all our modular structures currently available for sale.
About our tents and marquees
Our company, "Vente de Chapiteaux" is a family business specialising in the sale and installation of outdoor structures. A professional environment which opened to us for the love of reception. Even before we specialized in the realization of building sites for this field, we always attached particular importance to visual renderings, aesthetic solutions that were presented to people during public or private events.
Today, we have some twenty years of experience that we put to good use for professionals and private individuals who are looking for high quality shelters and the guarantee of an attractive visual rendering.
Developed in our design office, our high-resistance products are made to measure, according to the C.T.S. safety standards in force and guarantee you optimum quality for many years to come.
To meet your needs and wishes, we offer a wide choice of marquees and reception tents for all types of events: weddings, private receptions, trade shows, markets, festivals or corporate events.
In order to widen our field of action, we specialise in the sale and installation of storage solutions. We are therefore able to meet the most varied storage needs.
All reception tents and party tents sold by our company LBR Structure are certified in accordance with the current CTS standards.
The structures and event tents are made of very strong and light aluminium, steel junction pieces, with side parts, PVC M2 reinforced polyester walls or bay windows.
Your reception tents manufacturer LBR Structure (ventedechapiteaux.com) also gives you the alternative marquee for your temporary industrial building. Our side heights are 2.50 m, 3.5 0 m, 4.00 m and more.
By halving the cost of a traditional construction, storage tents are nowadays the favorite option for warehouses and storage buildings with metal walls. As a direct manufacturer, we offer a wide range of accessories, higher ridge roofs, transparent roofs and gables, rigid ABS walls and glass frame walls as well as double aluminium swing doors and metal frame floors on quality flooring.
Discover now in our catalogue all our products and party tents in a multitude of shapes and designs.
Our customers are mainly equipment rental companies and dealers of reception furniture:
Caterers and event organisers, equipment hire companies for receptions and events
Local authorities, multi-purpose halls, town halls, convention centers, sports facilities, associations, etc.
Hospitals, cafés, hotels, restaurants
Factories, companies producing large volumes