Opt now for an easy and secure storage solution thanks to the equipment we offer for sale, with delivery anywhere in the world. Our team can also come and install the structure on your premises directly.
Find out more about our storage marquees
The storage marquees, which we offer for sale, offer the possibility of creating units suitable for the storage of large volumes of material for all professional operations. Equipped with metal cladding and bi-slope cutting, these temporary or permanent storage marquees remain real secure buildings capable of withstanding bad weather and climatic hazards.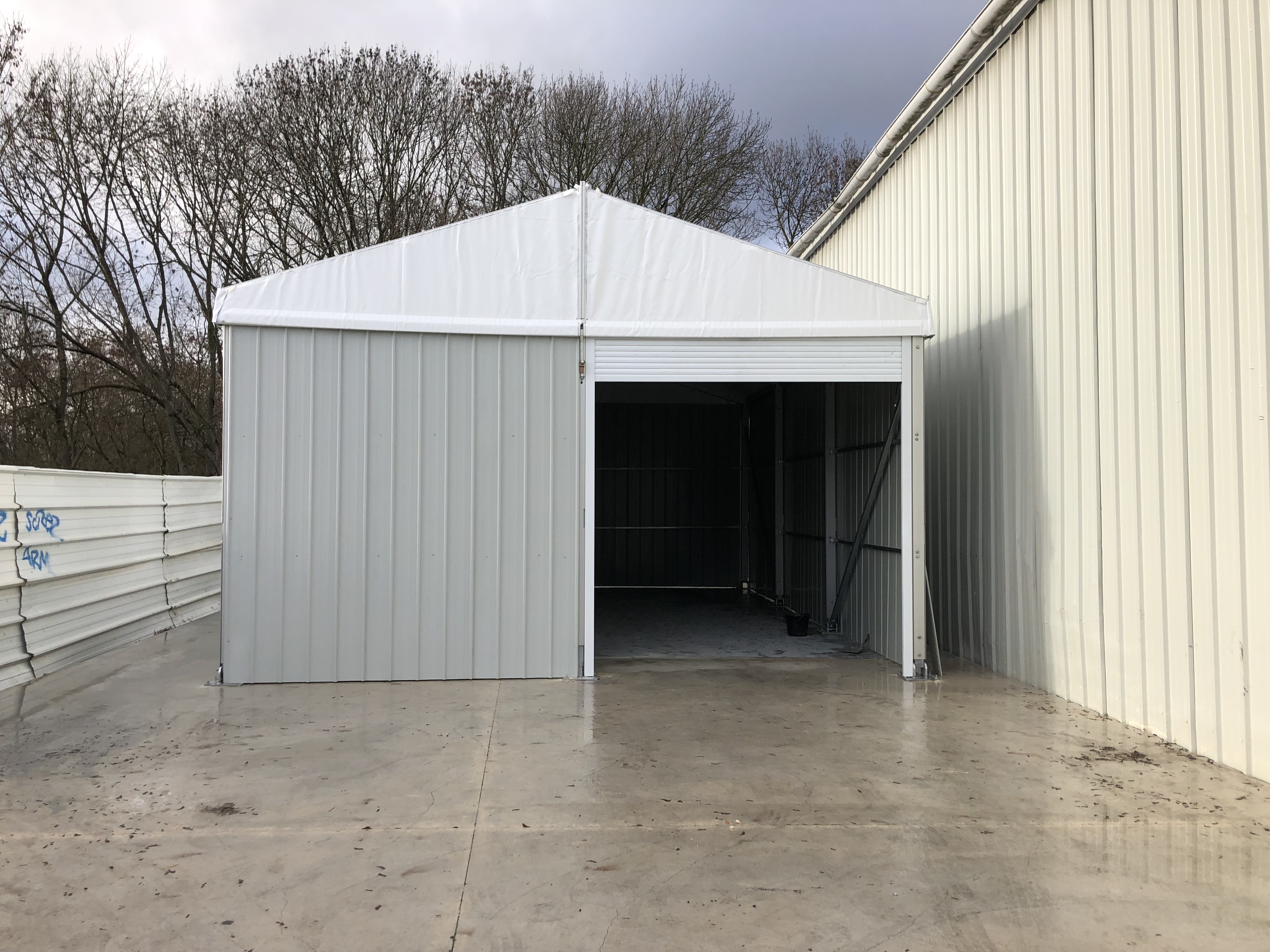 With heights ranging from 2.50 metres to 6 metres, widths from 4 to 40 metres in 3 to 5 metre bays, our tents are infinitely modular and ideal for all types of storage. An undeniable solution to the lack of space in production plants, storage companies, car garages or showrooms.
With a construction cost reduced by half, storage marquees appear to be the best alternative to traditional warehouses, sheds and other storage buildings.
The side walls are available in flexible PVC, single or double skin cladding, rigid ABS panels and glass racks.
Staff access doors, roller shutters or lighting systems, all our commercial and industrial structures are also available with a full range of accessories.
Turn your tent into a warehouse
Storage marquees allow the creation of units adapted to shelter large volumes of material. Very useful for creating temporary or permanent warehouses, storage marquees offer multiple possibilities of form and design.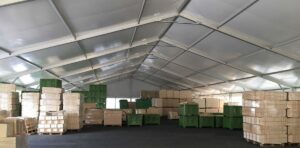 "Vente de chapiteaux.com" offers you the solution of tents to build your shed in side height from 3m to 6m for infinite widths. Concretely this means that all surfaces are possible.
Reduced costs to store your material
By halving the cost of a traditional construction, storage tents are nowadays the preferred option for warehouses, buildings and storage marquees.
We also offer you higher ridge roofs and transparent gables, rigid ABS walls with glass frame, double wing aluminium doors and metal frame floors on double cassette flooring, discover now in our reception area a multitude of shapes and designs.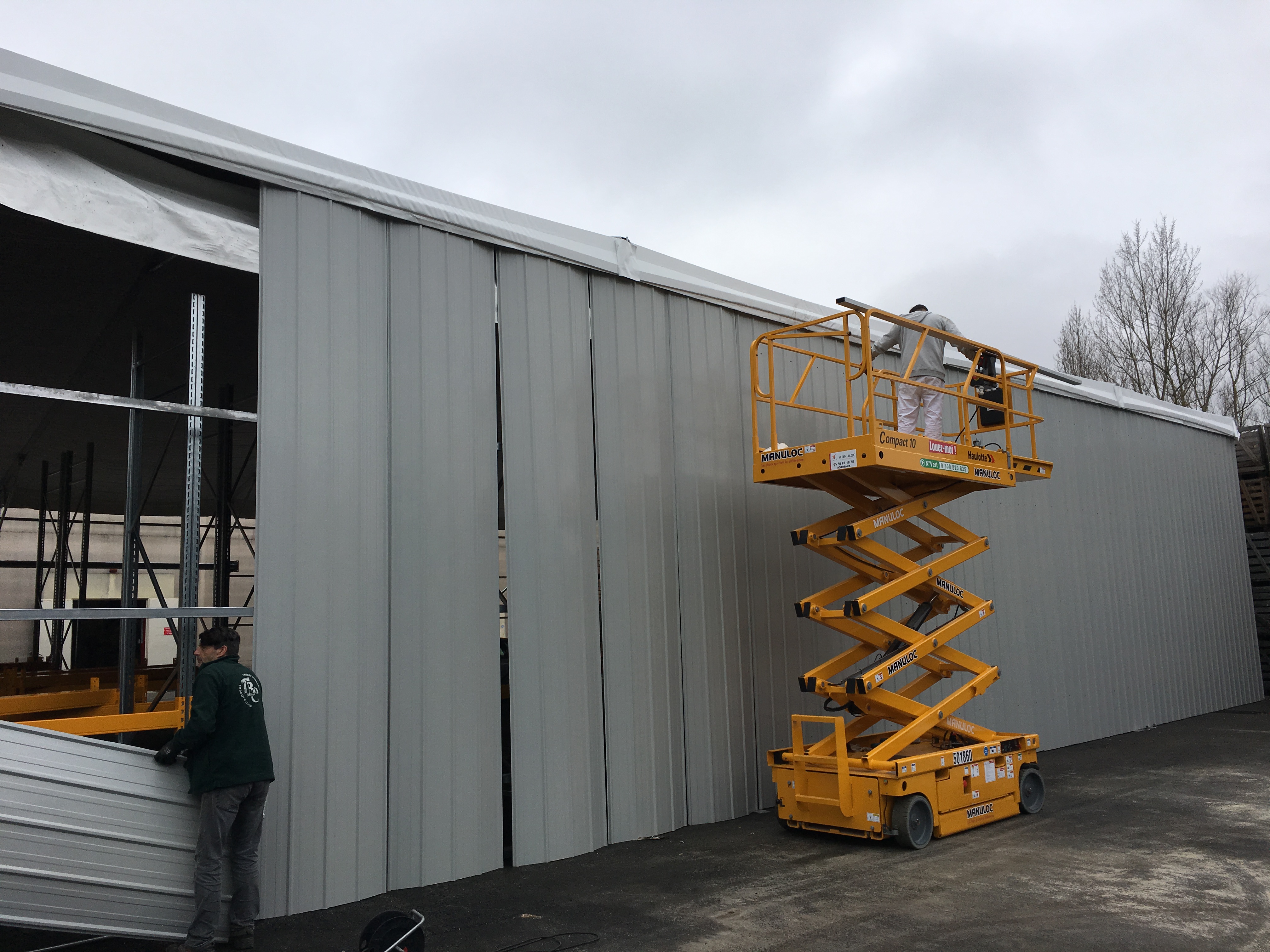 Commercial or industrial buildings and warehouses offer you an unbeatable price-performance ratio compared to traditional construction methods, tents and warehouse tents with a span of 5 to 40 meters, with sand heights of 3.00 to 6.00 meters, taking into account wind load and snow load.
Tents for all purposes
This range of fully demountable permanent or semi-permanent constructions allows you to quickly obtain covered space or rent such space to your customers, for a multitude of industrial and specialized applications, logistics, retail, exhibitions, production, automotive, showrooms, storage, military applications, aviation, port facilities and leisure applications.
Like traditional permanent structures, commercial and industrial buildings can be designed to accommodate region-specific wind and snow loads.
The possibilities offered by commercial and industrial construction are manifold.
Our options to customize your tent
Our structures are available in a single membrane roof, a thermo-swellable roof ensures better energy efficiency (lower U heat transmission), for better thermal protection. The side walls are available in flexible PVC, single or double skin bradges, rigid ABS panels and glass racks.
All our commercial and industrial structures are also available with a full range of accessories, such as staff access doors, roll-down shutters, lighting, power supply and HVAC systems.
Contact us without delay so that we can make you a suitable offer.
Free quote within 48 hours.